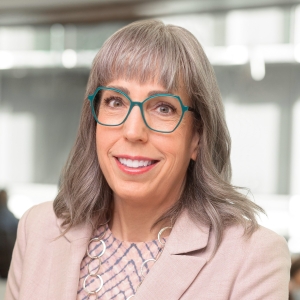 Melissa Just is Dean, University Library at the University of Saskatchewan (USask), and for an 18-month period served as the institution's Interim Provost and Interim Deputy Provost. Prior to joining USask, she was Assistant Vice-President for Information Services and Director of New Brunswick Libraries at Rutgers, The State University of New Jersey, preceded by a variety of positions in biomedical libraries at UC San Diego, UC San Francisco, City of Hope National Cancer Center/Graduate School of Biological Sciences, and the University of Southern California.
Dr. Just also currently serves as the Vice-Chair of the Board of Directors of the Canadian Research Knowledge Network (CRKN), and on the Board of Directors and the Governance Committee of the Association of Research Libraries (ARL). Previous governance experience includes membership on the Boards of Directors for the Statewide California Electronic Library Consortium (SCLEC) and the Canadian Association of Research Libraries (CARL), where she currently chairs the Strengthening Capacity Committee.
She holds a BA in psychobiology from UC Riverside, a master of library and information science from the University of Texas at Austin, and a doctor of education from the University of Southern California.