University of Ottawa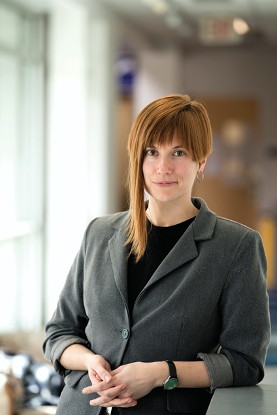 Dr. Constance Crompton, BA, MA, PhD, is an Assistant Professor in the Department of Communication at the University of Ottawa and at Tier 2 Canada Research Chair in Digital Humanities. She directs the University of Ottawa's Labo de données en sciences humaines/​Humanities Data Lab. She co-directs the Lesbian and Gay Liberation in Canada project, and is a cluster lead on the Linked Infrastructure for Networked Cultural Scholarship and Implementing New Knowledge Environments Partnership research teams. 
Dr. Crompton sits on the board of Canadian Research Knowledge Network/​Réseau canadien de documentation pour la recherche. She serves as VP English of the Canadian Society for Digital Humanities/​Société canadienne des humanités numériques and is an associate director of the Digital Humanities Summer Institute (Victoria), North America's largest digital humanities training institute. Her research focuses on the conversion of Humanities data into linked data to bring the superpower of the Humanities — the ability to understand the past in order to improve the future — to the Semantic Web. 
Prior to joining the University of Ottawa in July 2017, Dr. Crompton was an Assistant Professor of Digital Humanities at the University of British Columbia's Okanagan campus.