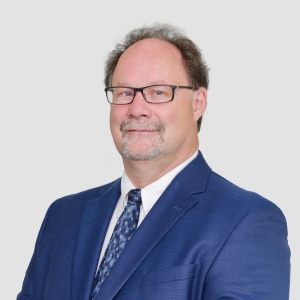 David MaGee is Vice-President, Research at the University of New Brunswick (UNB). His office provides leadership and vision in shaping UNB's strategic research direction and agenda. It also develops a higher profile for the full spectrum of research and scholarly activities in all academic units. The responsibilities of the office include Research Ethics, Postdoctoral Fellows, UNB's Strategic Research Plan, Research Institutes and various other internal grants and awards.
A native New Brunswicker, Dr. MaGee earned his PhD in synthetic organic chemistry and his B.Sc. from UNB. Following a two-year NSERC post-doctoral fellowship at the University of Rochester, he returned to UNB in 1990 as an Assistant Professor. In 1995, he was promoted to Associate Professor and, in 2000, became a Full Professor. From 1999 – 2007, he served as Chair of the Department of Chemistry and was Dean of Science from 2008 – 2017. Following one year as Acting Vice-President, Research, he was appointed to the full-time position in 2018.
Dr. MaGee has served on a number of university committees, including the Academic Planning Committee (both stages); the Administrative Bargaining Committee for the most recent collective bargaining; the Strategic Research Planning Committee; UNB's Strategic Planning Committee; and the UNB Standing Review Committee responsible for reviewing all CRC, CFI and AIF applications from the institution. As Vice-President, Research, he serves on various regional and national boards, including SpringBoard Atlantic, New Brunswick Innovation Foundation, New Brunswick Health Research Foundation, BioNB, Canadian Consortium of Ocean Research Universities, Huntsman Marine Centre and AceNet.