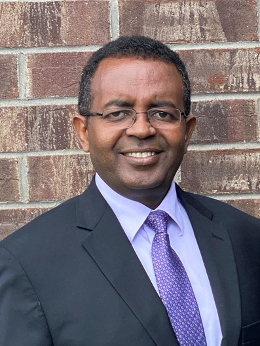 Many of the world's most iconic structures, such as the Freedom Tower in New York City, the International Commerce Centre in Hong Kong or the Burj Khalifa in Dubai, had a Canadian professor guiding the extreme wind-proofing necessary for their structural integrity.  
Dr. Girma Bitsuamlak has consulted on the wind-proofing of some of the world's most high-profile buildings as a Professor in the Civil and Environmental Engineering Department at Western University and as the Canada Research Chair in Wind Engineering. Dr. Bitsuamlak is also the Research Director at the WindEEE Research Institute and the Boundary Layer Wind Tunnel Laboratory as well as the site leader for Sharcnet at Western.  
"What I do is design buildings in a sustainable manner," Dr. Bitsuamlak says. "I also design buildings that are resilient to extreme climate stressors, including extreme wind and weather, structures that can withstand tornadoes, hurricanes or downburst. Designing for wind is not something new; we have been doing it for the last half of the century but designing for tornadoes or downburst is new."  
Dr. Bitsuamlak, whose WindEEE Institute houses a first-of-its-kind tornado generator, is frequently called upon by governments that want to know what kind of risk exposure communities might have to tornados.  
The historical Boundary Layer Wind Tunnel Lab is another experimental facility. "This is the facility that has tested most of the world's landmark buildings for wind," he says. "The World Trade Centre, the CN Tower, the Sears (now Willis) Tower and many other iconic buildings worldwide were studied at the Western Wind Lab."  
While the study of typical wind is complex itself, wind coupled with heat, rain, wind-born debris, snow, ice or pollution in cities during major climatic events is even more so.  "That is where the supercomputing work comes in," he says. "We do some work in the experimental lab, but more and more, we are using a computational approach using Sharcnet."  
Dr. Bitsuamlak has been instrumental in finding solutions to these multi-physics problems in cities by utilizing computational modelling capabilities.   
"I invest my time equally in computational and laboratory experiments, and they fuel each other," he says. "It is amazing how the computational resources help us improve the experimental research and how the laboratory experiments help develop and validate the computational models. This approach propels both computational and experimental research."  
He says digital research infrastructure resources allow his team to do a "more holistic" design incorporating climate resilience, sustainability and net-zero energy goals.