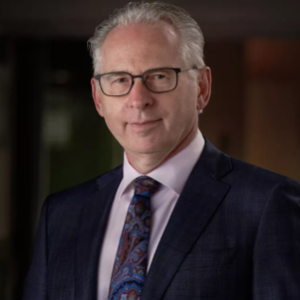 Dr. Edward McCauley has served as the University of Calgary's ninth president and vice-chancellor since January 2019 and has subsequently been re-appointed to a second term, ending in December 2028. He was previously engaged as the Vice-President (Research), a professor in Biological Sciences, and a NSERC Tier I Canada Research Chair in Population Ecology at the University of Calgary. His academic record also includes two separate periods working at the University of California, Santa Barbara—first as a postdoctoral fellow, and later in his career as a professor in the Department of Ecology, Evolution and Marine Biology, and as the Director of the National Center for Ecological Analysis and Synthesis.
Dr. McCauley completed a B.Sc. (Biological Sciences) in 1976 and a M.Sc. (Ecology) in 1978 at the University of Ottawa. He later completed a Ph.D. (Ecology) in 1983 at McGill University. A highly regarded scholar in ecology, population biology and aquatic ecosystems, McCauley has attracted significant external funding for his multidisciplinary research in population dynamics and ecological processes. His notable impact in Biological Sciences and reputation as a champion of research has offered Dr. McCauley even more professional opportunities: as a member of Research Committees for Universities Canada and the Canadian Institute for Advanced Research, as a panel member for the Canada Research Chairs Program, on NSERC grant selection committees, and a board member of Mitacs, TRIUMF, Genome Alberta and Compute Canada.
Since first appointed as president and vice-chancellor, Dr. McCauley has engaged extensively with students, faculty, staff, alumni and community leaders, to explore what they needed from the University of Calgary. This consultation has since evolved into Framework for Growth, an institutional plan that focuses on transdisciplinary scholarship, future-focused program delivery and deeper community partnerships. These foundational commitments have buoyed UCalgary into the top ranks of research-intensive universities in Canada and the number one post-secondary start-up creator in the country.