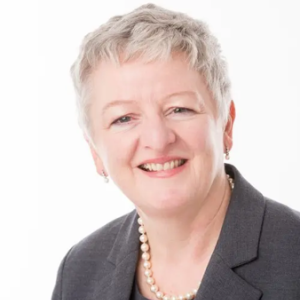 Karen Barnes recently retired as President of Yukon University (formerly Yukon College) in Whitehorse, Yukon (the first Canadian University North of 60), a role she held since 2011. In guiding the transition from college to university, Dr. Barnes was steadfast in her belief that northerners should not have to leave to pursue post-secondary education. Her achievements include the northern environmental and conservation sciences bachelor's degree, launched in partnership with the University of Alberta and the YukonU Research Centre, which is a recognized leader for its work in climate change and cold climate innovation.  
Dr. Barnes has chaired the governing committees for the Yukon Research Centre and the Northern Institute of Social Justice. In addition, she has served as a board member of the Mining Industry Human Resource Council of Canada and was appointed to the Saskatchewan Higher Education Quality Assurance Board in 2012, where she served as Vice-Chair until 2018. In August 2018 she was appointed to the Board of Directors for the University of the Arctic in Norway. As a board member of the University of the Arctic, Dr. Barnes connected YukonU with a network of universities, colleges and other organizations committed to higher education and research in the North. But her greatest legacy is Yukon First Nations 101, a course that is mandatory for university staff and students and increasingly required in Yukon's government, police and industrial sectors. Throughout her career, Dr. Barnes has used education as a tool of change and reconciliation. 
Dr. Barnes co-chaired the Colleges and Institutes Canada committee that developed the Indigenous Protocol for Canadian Colleges and Institutes. She currently works with other college and university presidents in Canada to raise the profile of colleges serving rural and remote communities. Since coming north, she continues to volunteer in the community on the board of the Yukon Imagination Library, as AVP sponsorship for the 2012 and 2020 Arctic Winter Games, and as a founding member of 100 Women Who Care – Whitehorse. 
Dr. Barnes holds a BA and a Professional After Degree in Education from the University of British Columbia, and a M.Ed. (Adult Education) and a Doctorate in Education (Policy Studies) from the University of Alberta. In 2020, Dr. Barnes was the recipient of various Alumni awards from the University of Alberta including the Distinguished Alumni Award, Alumni Honour Award, Alumni Innovation Award, amongst others.