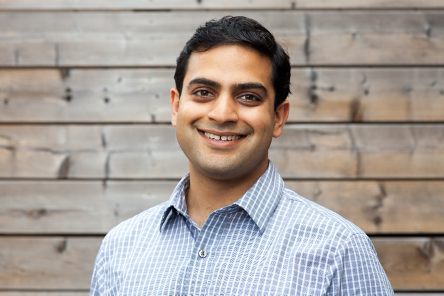 Dr. Amol Verma's team is one of the largest COVID-19 research groups in the world, but much of the time Dr. Verma isn't in a medical lab or a clinical setting. Rather, he's in a computer lab.  
Ultimately, improving patient care through data collection and curation is at the heart of what Dr. Verma does. He and his team have been collecting data from hospitals, curating it and making it available to more than 100 researchers through the Digital Research Alliance of Canada's HPC for Health platform. 
"We are working to improve hospital care using data from electronic health records," Dr. Verma says, describing three facets of his work. First, he co-leads GEMINI, a project that harnesses data from hospitals across Ontario to enable research and innovation to improve in-patient care. Second, he helps to build the Ontario General Medicine Quality Improvement Network, which measures the quality of hospital care and is working to optimize how health care is delivered. Finally, he develops and implements artificial intelligence and predictive analytics for the same purpose at St. Michael's Hospital. 
"There's a lot we can do to design hospital systems to support recovery and wellness better than they currently do," he says. "Right now, we are not taking advantage of data and analytics to constantly learn and improve." 
To do his work, Dr. Verma uses the Alliance's high-performance computing centre, a virtual private cloud service for sensitive health data.  
"It's innovative because it provides access to high-performance computing you can scale," he says. "It allows each institution to set their own governance rules, which is crucially important in health care because of the need for privacy protection."  
That said, there are challenges.  
"Health-care data are highly unstandardized," he says. "As a consequence, you need sophisticated software tools to make sense of them. We've been developing and using existing open-source health-care tools to improve the way data are standardized and assessed. So, a big part of our work is research software engineering. We couldn't do our work without the Alliance's resources." 
My biggest challenge is: "The biggest challenge is data silos, and there are regulatory and technical reasons for that. Our group has been trying to break down those silos through technological solutions and by building strong partnerships across the health system. There's a huge role for the Alliance there in terms of supporting the infrastructure that can make it easier to liberate data from siloed systems and also assist in the culture change that is required to encourage a more open scientific environment and data-sharing for public benefit. At the same time, we must ensure the highest levels of security and privacy."  
I've had to come to terms with: "Maybe it's the folly of being an early career person, but I don't yet accept any limits on where we can get the system to." 
My message to others: "I believe organizations like the Alliance will succeed through partnerships and participation of a huge range of people. I encourage people to get involved in the Alliance's activities through their institutions and for individual researchers to support a unified vision for a much more accessible, dynamic and innovative digital research environment in Canada over the coming decades."