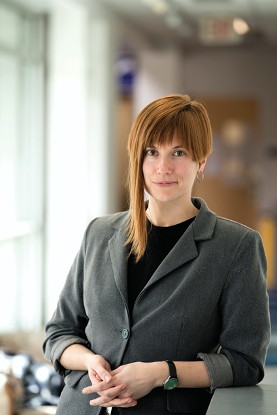 Dr. Constance Crompton says the humanities empower people by showing how societies change over time and how we can avoid the mistakes of the past. She's also passionate about getting the research — everything from history and literature to sociology and psychology — into everyone's hands.  
"Most people can't get to an academic article that's behind a paywall," says Dr. Crompton, Canada Research Chair in Digital Humanities and Director of the Humanities Data Lab at the University of Ottawa. "People are disenfranchised and we're not stopping to figure out how that happened. We don't have to forget our history — we have historians and we have the tools to show that some parts of the world used to be better."  
To that end, Dr. Crompton is excited about how digital humanities can make this information more accessible. She works on a number of research projects that have the accessibility of humanities knowledge at their core. First, she works on the University of Guelph Linked Infrastructure for Networked Cultural Scholarship (LINCS) project, which converts "large datasets into an organized, interconnected set of resources." Dr. Crompton leads a dataset conversion aspect of the project. 
"We are connecting data across datasets to support non-technical Humanists," she says. "Not only does that save time, but associated projects can benefit from the interconnection. I have one project with one passing reference to Margaret Atwood. The LINCS data will make it possible to connect other peer-reviewed data about her." 
She also works on a second project, the University of Victoria's Implementing New Knowledge Environments (INKE) project, a research network that fosters open social scholarship for all to access.  
"The INKE team has been engaged in software development and just launched the Humanities Social Science Commons, which is a set of project management tools as well as a social space and a repository for data that gets us away from those proprietary collaboration spaces and lets people work with data in a way that complies with Canadian legislation."  
Her third project, which she runs with a research partner at Toronto Metropolitan University, is called Lesbian and Gay Liberation in Canada, which has 32,000 records about the gay liberation movement. It's now hosted by the Toronto Metropolitan University Library Collaboratory, but when she launched it, it was being curated with the use of two Compute Canada machines.  
"Being able to use Compute Canada and its support there made it possible to make this content available to the public," she says, adding that Compute Canada was there for her from the start. "When I was starting out, I would have been dead in the water if it wasn't for Compute Canada. Everyone was so collaborative and keen to understand the humanities research needs."  
My biggest challenge: "comes from the uptime requirement of SAAS. Will SAAS be something we can offer through the Alliance? That said, while I am interested in software development, most humanities scholars aren't developing software. I know the Alliance will serve all researchers. In the humanities, scholars need places to connect to one another and to share their scholarship online."  
I had to come to terms with: "My mortality and the number of hours in a day. As I'm now working on more projects, writing grants and training students, I can't do as much of the lab bench work (e.g., keeping virtual machines running or applying patches) even though I love doing that stuff." 
My message to others is: "The humanities show us that it's possible to live in other ways than we do now. We are in trouble and part of that trouble comes from not understanding history. The Alliance, with its mission to serve all disciplines in Canada, is a crucial part of getting humanities knowledge out from behind paywalls to the public who will be empowered by it."