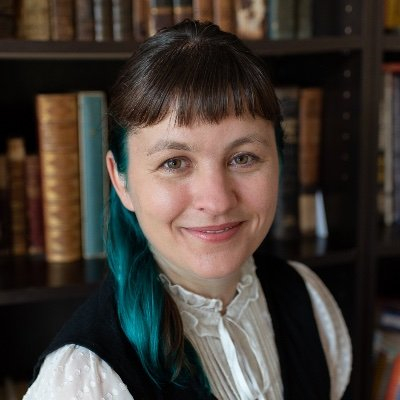 Dr. Laura Estill finds some interesting things when she's scouring old manuscripts. The Associate Professor of English and Canada Research Chair in Digital Humanities at St. Francis Xavier University studies how plays by Shakespeare and his contemporaries have been received — from their earliest moments of performance and publication to the present day.  
The manuscripts she studies provide handwritten evidence of how people interacted with Shakespeare's work, whether they were reading or attending a performance.  
"I have some fantastic examples of people using Shakespeare's plays to find pickup lines," Dr. Estill says. "Or examples of plays that we no longer read anymore being someone's favourite, or lines that become proverbs."  
The challenge with studying centuries-old manuscripts is that they are in repositories around the world and exist only in a single copy that often has not been digitized. That's where Dr. Estill's research comes in: she creates manuscript transcriptions to make the contents of the manuscripts searchable using metadata, so scholars — and even everyday people — can better understand how people read and understood these examples of early modern drama.  
After she transcribes the manuscripts, she encodes them using TEI, an XML language that can be used to create digital editions or websites.  
"Increasingly, making manuscripts searchable is going to change the way we understand reception history," Dr. Estill says. "I am also interested in how we represent these plays online through the digital resources we create to understand literature. What do we highlight and emphasize, and what gets pushed to the margins?"  
Dr. Estill's digital project, DEx: A Database of Dramatic Extracts, also involves manuscript study. It can show, for example, which plays people copied from the most and which character a given reader preferred. She's working on this project with colleague Dr. Beatrice Montedoro, of the University of Zurich.  
"None of that is in the original manuscripts," Dr. Estill says. "They don't usually say 'Here's a passage from Othello.' They'd just write the passage down. We add all of that metadata to make it searchable."  
Research software and research data management tools make it possible for her to do this work. She says it's important to fund digital projects in the humanities as 45 per cent of them end up being abandoned within 10 years of being launched.  
"People are creating these resources, but then they're being lost because of funding, or challenges with evolving platforms," she says. "The humanities face a research data management crisis."